Here you will find explanations of the error messages you might encounter when using SecureMailMerge.
Errors starting the add-in
Could not start. Access to your browser's storage is blocked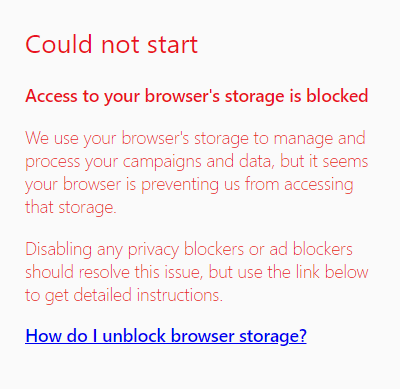 Because we are a privacy focussed mail merge add-in we use your browser to process your campaign data. This means we need a place to store the data. For this we use browser storage (also called IndexedDB or local storage). Because of the way Office add-ins work the browser may sometimes block access to this storage which prevents the addin from working. Please see our detailed guide on how to enable access for the add-in.
Errors while sending mails
Error sending mail. The user account which was used to submit this request does not have the right to send mail on behalf of the specified sending account. Cannot submit message.


You logged-in to SecureMailMerge with an account that is not allowed to send from the specified email address. Use the "sign out" link to sign out of Microsoft 365 and then sign-in again with the account that has the appropriate rights.
If you are sending from an alias email address make sure your account has "Send As" rights for that alias.
Error sending mail. ParseError: unpexpected token at "x"

This means one of your personalization tokens is invalid. Please double-check you spelled all the column names correctly and each token has two curly braces around it.