Sending a mail merge and request read receipts or send with high importance
Learn how to add advanced features to your mail merge that you know from Outlook.
Go to Advanced Campaign Options.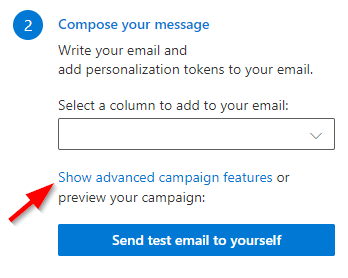 In the campaign manager select the link titled "Show advanced campaign features" to open the advanced options.
(Note: These two features WILL all apply to the test email as well.)
Option: Request read receipts
This will send your mail merge with a request for a read receipt. This feature works just like the read receipt feature in Outlook and may not work in all cases if the recipient is using a different email client.
Option: Send with high importance
All emails will be set to high importance which is supported by most email clients to indicate an important email.