Email marketing is one of the craziest and super reliable ways to boost your SaaS business in 2023!
In fact, in the last 12 months, about 77% of marketers have reported increased email engagement.
And that means a winning ticket for your tech business.
But with so many email marketing tools out there, finding the right fit can be a challenge.
That's where this article comes in.
We've curated a list of the top email marketing tools designed for SaaS and tech businesses, whether you're a startup or a tech giant.
In this article, we'll also discuss the criteria, factors, and successful examples illustrating a practical implementation of the perfect email marketing campaign your tech business needs.
So, let's start with the 6 top email marketing tools for SaaS!
Top Email Marketing Tools and Software for SaaS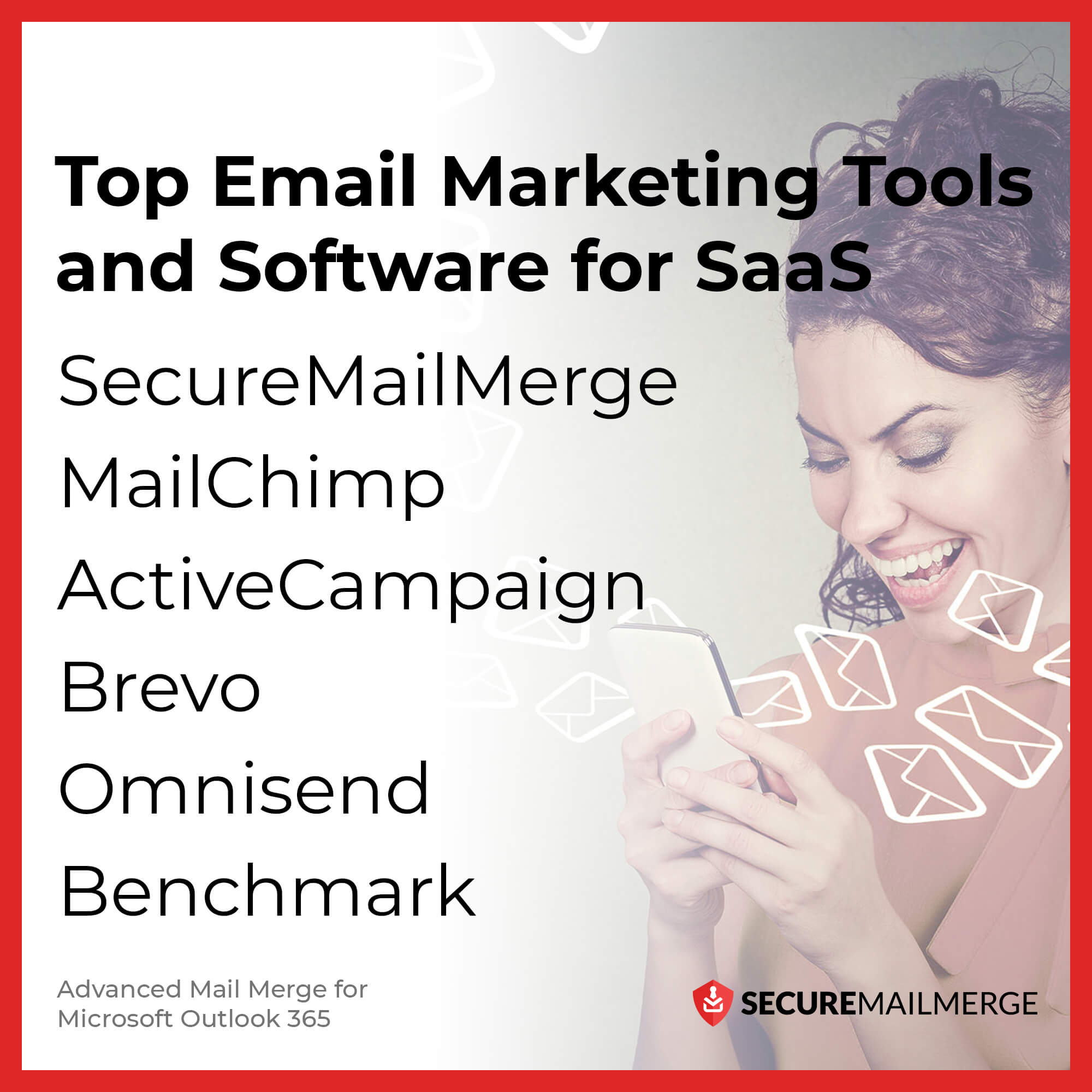 1. Secure Mail Merge
Want to elevate your email marketing game on Outlook?
You need to try Secure Mail Merge!
With advanced automation features and easy functionalities, Secure Mail Merge has become one of the most reliable options for Outlook email campaigns.
HubSpot discovered that the best strategy for executing successful marketing campaigns includes the following:
Segmenting subscribers (78%),
Personalizing messages (72%),
And utilizing email automation (71%)
Luckily, you can find all of these features in Secure Mail Merge!
Pros
Secure Mail Merge offers a simple mail merge feature that lets you personalize emails effortlessly by merging recipient data, such as names and company names, from spreadsheets or other contact details.
You can effectively boost engagement with automated follow-up emails to recipients who have yet to respond to your initial outreach, increasing the chances of conversion.
Lets you schedule emails at the most reasonable times for maximum impact, even across different time zones.
Unlike many other tools, it doesn't restrict the number of emails you can send, providing true flexibility for your campaigns.
You can easily personalize any email by adding a column with the file names to the spreadsheets and uploading the files.
Cons
Secure Mail Merge is specifically designed for Microsoft Outlook users.
Key Features
Recipient Customization: You can merge recipient data into emails for a personalized touch.
Formatting Options: You can easily add tables, images, signatures, etc.
Alias: Already have an email alias with Microsoft 365? You can use that to send emails via Secure Mail Merge too!
Unlimited Emails: Working with a long contact list? no worries! With Secure Mail Merge, you can send 100,000 emails per day!
Size Unrestricted: Whether it's a large file, a heavy video, or 100s images, you can add as much as you want without stressing about the email size.
Pricing
Secure Mail Merge offers two pricing options to suit various needs:
Non-Commercial Use: This plan is available for free with unlimited campaigns. However, the emails are sent with our promotional footer.
Commercial Use: This pricing plan costs about $10 per month and user and includes sending without a promotional footer.
2. MailChimp
MailChimp is arguably one of the most used email marketing tools. The tool is packed with advanced features and an easy-to-use interface.
Pros
Has an easy-to-use interface that makes it easy to use the app without delving into the complicated know-how.
The tool offers several other features, including landing pages, social media integration, advertising, etc.
MailChimp's automation features simplify sending targeted and personalized messages, enhancing engagement and conversion rates.
Cons
While MailChimp offers a free plan, it has limitations on features and the number of contacts.
While the basic features are user-friendly, more advanced automation and segmentation features might require a steeper learning curve.
Key Features
Email Campaigns: You can create, design, and send engaging email campaigns to your subscribers.
Marketing Automation: It's easy to set up automated email sequences based on user behavior, ensuring timely and relevant communication.
A/B Testing: You can quickly test different elements of your campaigns to optimize engagement and conversion rates.
Segmentation: The tool allows you to divide your audience into segments to deliver more targeted content.
Reporting and Analytics: With MailChimp, you can easily access detailed insights into your campaign performance and subscriber behavior.
Pricing
MailChimp offers various pricing plans to cater to different business needs:
Free Plan: This plan has basic features, limited contacts, and email sends.
Essentials Plan: This plan starts at $13 per month, offering additional features such as A/B testing and custom branding.
Standard Plan:This plan costs $20 monthly, providing advanced features like automation and retargeting ads.
Premium Plan: This plan costs $350 monthly, with advanced automation, multivariate testing, and priority support.
3. ActiveCampaign
ActiveCampaign has recently emerged as one of the most widely used email marketing tools that provide businesses with the tools they need to create personalized, impactful campaigns.
Pros
A user-friendly drag-and-drop interface makes it suitable for beginners and experienced marketers.
You can automate every aspect of your marketing funnel, including triggered emails, personalized content, and behavior-based automation to ensure your contacts receive relevant messages at the right time.
Stands out for its excellent customer support.
Cons
While user-friendly, the extensive features require a learning curve for users new to marketing automation.
Some users may find the pricing plans steep as their contact lists grow, especially for larger organizations or rapidly expanding businesses.
For businesses seeking basic email marketing functionalities, ActiveCampaign's powerful suite of tools might feel like overkill.
Key Features
Email Automation: With ActiveCampaign, you can craft intricate automation based on user behavior, triggers, and events, allowing personalized communication throughout the customer journey.
Segmentation: The tools allow you to divide your audience into highly targeted segments, ensuring that each message resonates with your contacts' specific interests and preferences.
Personalization: You can utilize contact data to create personalized emails.
Integration: You can seamlessly connect ActiveCampaign with your preferred apps, such as e-commerce platforms, CRM systems, and social media tools, to centralize data and enhance efficiency.
Analytics and Reporting:With this tool, you can gain insights into your campaigns' performance with detailed analytics and reporting.
Pricing
ActiveCampaign has the following pricing plans:
Plus Plan: Priced at $49 per month, this plan introduces advanced automation and CRM features, catering to growing businesses aiming to optimize their marketing efforts.
Professional Plan: For $149 per month, the Professional Plan expands on the Plus Plan by including predictive sending AI, split automation, and integrations with Salesforce and Microsoft Dynamics 365.
Enterprise Plan: This plan is exclusively designed for larger organizations. It offers custom pricing based on your specific needs. It includes custom reporting, single sign-on, and unlimited email testing.
4. Brevo
Brevo (formerly SendinBlue) is a versatile email marketing tool offering many features.
With its excellent deliverability, you can effortlessly foster customer relationships and enhance email marketing.
Pros
Offers a range of tools encompassing email, SMS, chat, and more, fostering holistic customer relationship management.
Servers are optimized for excellent email deliverability. This ensures that your messages reach your customers' inboxes effectively.
With a Drag & Drop editor, Brevo enables easy email design.
Cons
Beginners might find certain features overwhelming, necessitating additional training and support.
While Brevo offers a free plan, it has limitations on the number of daily emails, making it suitable for smaller-scale operations.
Key Features
SMS Campaigns: With Brevo, you can extend your reach through SMS campaigns, leveraging text messages to engage with your audience.
Chat Integration: You can easily engage in real-time conversations with your customers through Brevo's chat integration.
Transactional Emails: You can utilize triggered emails for timely and efficient communication, enhancing customer engagement.
Marketing Automation: With this tool, you can create automated workflows that streamline your marketing efforts and nurture leads throughout their journey.
A/B Testing:Brevo allows you to optimize campaigns by testing different elements to determine the most effective strategies for your audience.
Pricing
Free Plan: This plan offers 300 emails per day and unlimited contacts.
Starter Plan: This plan starts at $25/month and includes up to 20,000 monthly emails, basic reporting, and email support.
Business Plan: Starting from $65/month, it includes marketing automation, A/B testing, advanced statistics, multi-user access, and more.
BrevoPlus Plan: This is perfect for larger organizations and has custom pricing with enterprise-grade security, advanced integrations, sub-account management, tailored onboarding, and personalized support.
5. Omnisend
Omnisend is a phenomenal email marketing automation tool tailored to empower eCommerce businesses.
With user-friendly automation and marketing strategies, Omnisend is designed to help businesses engage customers effectively and drive sales.
Pros
Omnisend offers a campaign booster feature, enhancing customer engagement rates and boosting campaign effectiveness.
With this tool, you can streamline email marketing efforts with a straightforward setup for triggered emails and automation, reducing manual tasks.
Omnisend offers users a plethora of pre-built marketing automation workflows. This can help in simplifying the execution of marketing strategies.
Cons
Unlimited emails and contacts are exclusive to the higher pricing plan. This can be an issue for small and growing businesses.
While Omnisend offers valuable features, users might desire more flexibility and customization in email marketing.
Key Features
Web Push Notification Campaigns: With Omnisend, you can engage your audience with web push notifications and offer them timely updates and promotions.
A/B Split Testing: You can seamlessly enhance your campaigns by conducting A/B split tests to determine the most effective strategies.
Third-Party Integrations: You can easily integrate with numerous third-party platforms through Ombisend.
Web Tracking Data History: With Omnisend, you can gain insights into customer behavior through web tracking data, enabling data-driven decisions.
Custom Targeting & Timing: This tool allows you to deliver personalized messages at the right time.
Pricing
Omnisend offers various pricing plans that are tailored to your business needs.
Free Plan: This plan includes 250 contacts and 500 emails/month.
Standard Plan: Starting at $16/month, this plan offers 500 contacts and 6,000 emails/month.
Pro Plan:This plan costs around $59/month and offers 500 contacts, unlimited emails, and additional SMS capabilities.
6. Benchmark
Benchmark is still an underdog in the email marketing world. This email marketing software for small businesses offers several top-notch features and functionalities.
Pros
Offers a user-friendly interface, making it accessible to beginners and experienced marketers.
The platform provides a drag-and-drop email builder and a variety of professional templates, ensuring visually appealing emails.
Enables efficient list management, segmentation, and targeting for more personalized campaigns.
Cons
Offers a free plan but is limited regarding contacts and emails sent, making it more suitable for smaller businesses.
While the drag-and-drop builder is convenient, some advanced users might need help with design customization.
Some users have reported issues with email deliverability, which could impact the effectiveness of email campaigns.
Key Features
Automation:You can create automated workflows based on user actions and behaviors.
A/B Testing: With Benchmark, you can test different email versions to optimize content and improve engagement.
Analytics: You can use Benchmark to track email performance with detailed analytics and reporting.
Dedicated IP: With this tool, you can protect your sender's reputation with a dedicated IP address.
Customer Support: Benchmark offers various levels of customer support, including live chat and phone assistance.
Pricing
Free Plan: While free, this plan is only limited to 500 contacts, with 3,500 emails per month.
Pro Plan: Starting from $8/month, this plan is designed for growing businesses, accommodating up to 900,000 monthly emails.
Enterprise Plan: This plan is tailored for large-scale operations with unlimited emails and additional features like a dedicated IP. Contact sales for custom pricing.
What are the Criteria for Selecting Email Marketing Tools for SaaS?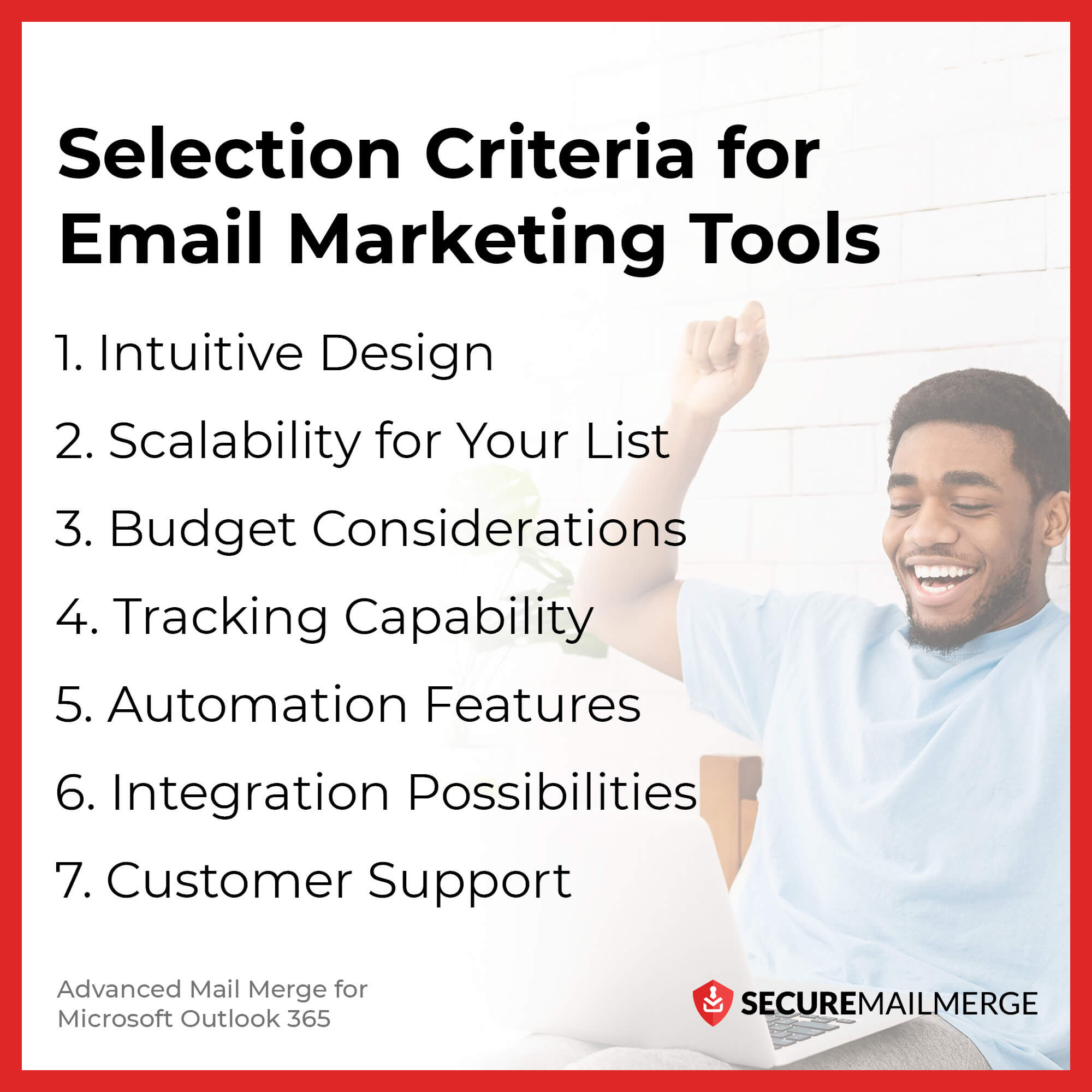 Before selecting the best email automation tool, here's a list of factors to consider.
1. Intuitive Design
Emails need to look good to capture your audience's attention.
And that is why, you should look for user-friendly tools that offer simple design features and allow you to create appealing emails without complications.
2. Scalability for Your List
How extensive is your email list?
Email marketing's goal is to reach out to potential growth. But that might only be possible with a tool with limited functionalities regarding contacts.
Ensure your email marketing tool handles your current list size and potential growth.
3. Budget Considerations
Price matters.
Especially if your business is just taking off, you must thoroughly understand your budget and explore tools that align with it.
Fortunately, many tools offer tiered pricing with several plans. You can follow whichever plan your business goals and financial situations align with the most.
4. Tracking Capability
Knowing how your emails perform is essential. It leads to growth and improvement. It tells youwhat you need to change and how you can do better.
This is why looking for tools that provide comprehensive tracking capabilities is essential. This information helps you refine your campaigns, identify the shortcomings in the current ones and generate successful ones in the future.
5. Automation Features
Imagine scheduling all your emails without worrying about sending them at the last minute. This level of organization and efficiency would surely impress your colleagues.
Moreover, it would save you ample time to utilize other productive tasks.
This is where automation can come to your rescue!
You won't be scrambling at the last minute with a tool with automation features like scheduling, drip campaigns, and more. The automation will do the task seamlessly for you!
6. Integration Possibilities
Your email tool should work well with other software you're using.
You don't need to change tabs every few seconds. With integration functionality, an email marketing tool allows you to be efficient and productive with your business operations.
7. Customer Support
Never underestimate the power of excellent customer support.
How an organization handles customer inquiries tells a lot about its values and beliefs.
It's crucial to look for tools that offer responsive customer support through various channels, such as chat, email, or phone.
5 Key Factors For The Success Of Your Email Marketing Campaign
Email marketing is not a one-size-fits-all game.
You can get inspired but can't follow in the footsteps of other tech companies.
This is because the landscape is competitive, and every business has needs, objectives, and budgets.
So if you want to make a lasting mark on the audience, you need to develop an intelligent strategy that aligns with the dynamics of these industries.
To give you a better understanding, let's dive into the factors that play a prominent role in steering email marketing success for SaaS and tech businesses:
1. Getting Personal with Your Audience
Hitting the click button doesn't mean you're not just sending emails into the void; you're communicating with real people who have different needs and interests.
You should be categorizing your email list based on user behavior and preferences. This ensures that your emails resonate with the audience personally, boosting engagement and conversions.
You can create segments for users who have shown interest in specific features or have a certain level of engagement to boost higher engagement and capture your audience's attention.
Let's say you're running a SaaS company offering various software solutions for project management and collaboration.
Within their user base, they notice that some users have shown a strong interest in their advanced task-tracking feature while others are more engaged with their real-time collaboration tools.
You can easily create segments based on these user behaviors using an email marketing platform with a segmentation feature.
They might have segments like "Advanced Task Tracking Enthusiasts" and "Real-Time Collaboration Fans."
One segment can highlight the new features, benefits, and success stories, while the other showcases the benefits of collaboration and practical tips.
This way, you can tailor the email content to these specific segments.
2. Offer Value; Not Just Promotion
Think about this: would you open an insubstantial email promoting a product?
You wouldn't, right?
Well, your audience will not either.
Understanding your audience deeper before crafting a clever email for marketing is essential.
People crave insights, solutions, and advice in the tech sphere.
That is why, your emails shouldn't be mere product showcases but knowledge capsules. They should offer substantial content to the audience - actionable tips, guides, educational content, or advice.
Basically - anything that prevents your subscriber from dumping your email in the trash.
Conduct thorough audience research using surveys, social media monitoring, and user feedback to understand their pain points.
You can use various tools like the following to help you identify your audience's pain points:
Then, integrate these insights into your email content. Consider creating a series of informative emails, each focusing on a specific topic or challenge, and gradually nurture your subscribers with valuable knowledge. This establishes your authority and keeps your audience eagerly anticipating your emails.
3. Create Captivating & Concise Subject Lines
Follow these proven tips to captivate your audience and entice them to open your emails:
Keep your subject lines clear and concise, avoiding ambiguity while communicating the email's content or benefit.
Evoke curiosity by hinting at valuable information.
Focus on benefits and urgency to create a sense of importance.
Incorporate action-oriented language, numbers, and statistics to add credibility and intrigue.
Tailor subject lines for specific audience segments and consider A/B testing to optimize effectiveness.
Be transparent and relevant, and avoid spam triggers while experimenting with humor.
Test different subject lengths to find the right balance between clarity and curiosity.
Use tools like Automizy's Subject Line Tester, Send Check It,and Phraseeto generate effective subject lines or improve the current ones.
4. Putting Users First
This goes without saying that your emails should prioritize your users.
Your email marketing should not be about what you offer but what the user might need.
It's about speaking their language, addressing their pain, and presenting resonating solutions. An email that empathizes with their challenges creates a trusty bond.
You can use the art of storytelling to illustrate how your solution addresses specific challenges your audience faces.
For instance, you can create captivating visuals with Canvato narrate real scenarios where your product/service provides value. You can also incorporate animated elements using Powtoonfor engaging content.
5. Mobile and Device Responsiveness
When you wake up, you don't automatically turn on your laptop. You pick up your phone bombarded with notifications and browse through them mindlessly.
And not just that, mobile phones and other devices are often preferred by people to check their emails and do other correspondences quickly.
What if your email is the first thing your user comes across on their phone?
You don't want them to slide it to the dumpster only because it looks dull.
Crafting emails that look great on mobile devices isn't just brilliant; it's necessary. A seamless mobile experience means your message is noticed.
Ensure that the text is legible and buttons are appropriately sized and easy to tap on smaller screens.
You can use tools like Litmus Email Previews. This helpful tool lets you preview how your email appears on different devices and make necessary adjustments.
Final Word
We hope you enjoyed reading this article!
And remember, if you're using Outlook to send your emails, try Secure Mail Merge.
Try the free version now with just one download and experience the revolution for your SaaS and tech business email marketing campaigns!